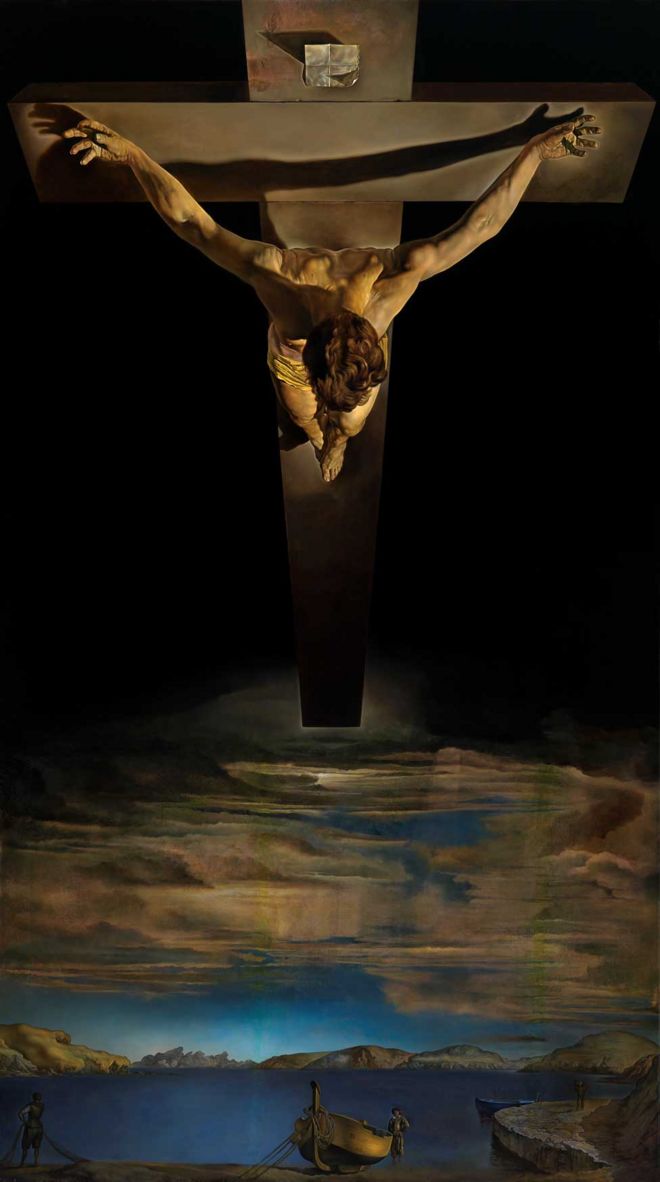 Salvador Dali, Christ of Saint John of the Cross
---
Fix your eyes on Jesus, the author and perfecter of faith, who for the joy set before Him endured the cross, despising the shame, and has sat down at the right hand of the throne of God. 

~ Hebrews 12:2
After about three months of focused reading of a number of ancient spiritual mystics and modern psychologists who would be called spiritual mystics if they were ancient, a clear message has emerged: if you haven't discovered God, then you haven't looked and listened deeply enough within your own soul. Discover your true self and there you will discover the God who accepts you just as you are. You need only now to accept yourself just as you are. You may even need to forgive yourself, but mainly just for not accepting yourself.
As much as I have gleaned from what I have read–there's some laudable stuff on the woes of technology and the unexamined life–I cannot help but confess that in my own experience of the infinite inward dive I have never found anything other than an infinite inward abyss. Now it may just be that I am especially void of any inborn divinity or particularly undiscerning of the God who is always within. It could be that my spirituality isn't mystical enough or my psyche isn't spiritual enough. I could just be an anomaly of godlessness in a world of demigods.
Whatever the case may be, if there are others out there like me who have looked soberly within to discover God and discovered nothing but the self standing in empty space, perhaps you will benefit from the path I took toward discovering God. But the following only applies to such as these. Conveniently, it is only a three step path.
---
Once you get to the bottom and discover there is in fact no ground beneath; once you see that there is no one else there accepting just as you are; after you've carefully listened for that eternal voice saying of you "This is my beloved in whom I am well please" and hear only hissing echoes of your own disguised persuasions; once your exhaustive inward search has led you only more deeply into despair and you are finally ready to give up—now you are ready. This is where the path begins, where it began for me, at least.
Step one: turn around. Stop stop looking inside yourself for the God who accepts you just as you are, because perhaps God does not accept you just as you are. He didn't accept me just as I was, or am. Step two: consider that. Consider that the reason you can't hear the divine voice calling you his beloved and assuring you he is well-pleased with your life or sense the peace of his presence is because, perhaps, your life is not well-pleasing to God, and perhaps he calls you by other names. And if you can entertain the notion that God does not accept you just as you are, that he is not well-pleased with your life, that you have not lived as his beloved but as a rebel, across enemy lines, you really only have one last step, and it is your last resort.
Step three: look outside of yourself and fix your eyes on Jesus Christ, the crucified One.
Once you begin looking, keep looking. I mean really look, like the way you've been looking in yourself. Fix your eyes on him, hanged, and there begin to listen–not to what the voice says about you but to what the voice says about him, the One called beloved by his Father in heaven, the One call by other names down here. Make sure it's him you see, that he's the victim, not you. Don't confuse the well-pleasing waters of his acceptance for the displeasing flow of your forgiveness. Let the cross be the measure of your life and your love. And when you hold your gaze long enough, as though there were nowhere else to look for God, as though all the world has been called to find God and be found by him in this one place, and it alone, you will inevitably be confronted by just how displeasing you are just as you are, because your life and your love are nothing like the well-pleasing love of God revealed in the displeasing death of his beloved Son. He's not like you, not like me. His life, his death—that's just not what our lives looks like.    
If you discover your true God there, at the cross, it is there you will discover your true self: a bona fide God-damned demigod, seated on a throne, floating on an abyss, guilty as Adam for the high treason of heaven–-"you will be as gods" (Gen. 3:5)–-an apple fallen not far from the tree. Jesus, after all, was nailed to a cross only after "Pilate…sat down on the judgment seat" (Jn. 19:13). He was a man-damned God. But when you see your God hanging there, high in our curse, carved into our tree (Gal. 3:13), the sun will rise, the truth will burn hot and clear in your empty soul, and you will see that it is not divine acceptance you need. It is divine forgiveness. And you need it desperately.
---
The human race is guilty of the highest offense, and that includes you, whoever you are. We're not dealing with double-parking at the pearly gates or our devotion to the Seahawks over the Sabbath (though that is indeed a capital offense, cf. Exod. 31:14). We are guilty of condemning God. We have crucified God's Son. There he is, the One who is always God, who one day was crucified by us. Even if it was not an undoable death, it is an undoable offense. Indeed, it's a repeatable offense, and we repeat it every time we place God's judgments under our judgment, which is all the time. All the time we disagree that the wages of sloth is death, the wages of gossip is death, the wages of greed and lust and covetousness and anything-less-than-love is death. Who does not daily disagree they deserve to die daily? Yet daily we are spared, up until our last day, at least. But Jesus did not deserve to die, ever, and one day he did, because we killed him. There he is. We accepted ourselves and rejected our God, condemned, crucified, cast out of human life. Fix your eyes on that truth.
You don't need divine acceptance. You need divine forgiveness. But for that, you need not look anywhere else. Indeed, you must not look anywhere else. And if you can see that, I'm certain you don't want to look anywhere else. For behold, the amazing love of God for a godless wretch like me, like you.  
For when we were still without strength, in due time Christ died for the ungodly. For scarcely for a righteous man will one die; yet perhaps for a good man someone would even dare to die. But God demonstrates His own love toward us, in that while we were still sinners, Christ died for us...While we were enemies of God, we were reconciled to God through the death of His Son…There is therefore now no condemnation for those who are in Christ Jesus."

~ Romans 5:6-11; 8:1
Guilty, yes. Condemned, no. So bow, beloved sinner, and let God be seated within.